Marriage Visas
Does it matter what state I live in if I want to use the Law Offices of Jeffrey C. Pettys to help me get a Visa for my fiancée?
No. Our offices can assist any US Citizen and most Residents living in all fifty states.
If you have a question or concern that is not addressed here, feel free to contact us and we will be happy to answer any other questions you may have.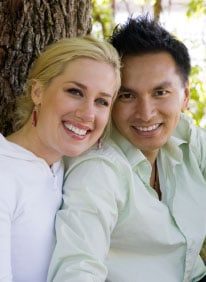 What is a Marriage Visa?
A Marriage Visa is an immigration visa that allows the foreign spouse of a U.S. Citizen or U.S. Legal Resident to immigrate to the United States. There are two types of Marriage Visas. The CR1 Marriage Visa and the IR1 Marriage Visa.
Basic Information about the CR1 and IR1 Visa
For U.S. citizens that want to bring their foreign spouse to the United States, the U.S. offers a couple of different options and they are the CR1/ IR1 visa and the K3 visa. While the K3 marriage visa is still in existence, changes in processing times have made CR1 and IR1 visas the only real option for most applicants.
The difference between an CR1 visa and a IR1 visa is pretty simple. If the couple has been married for less than two years, the foreign spouse will receive a CR1 visa. If the couple has been married for more than two years, the foreign spouse will receive an IR1 visa.
The CR-1 visa is known as a Conditional Resident visa and grants a foreign spouse conditional permanent residency. Foreign spouses that receive a CR1 visa can typically work in the U.S. within a matter of months as soon as they receive their green card. Since permanent status is considered conditional, the newly married couple must apply to remove conditional status jointly to prove that the foreign spouse did not get married to a U.S. citizen merely to circumvent U.S. immigration laws. This must be done before the two-year visa expires and it is actually recommended that the couple starts the process ninety days prior to the visa expiration date.
The IR1 (Immediate Relative) visa is issued to foreign spouses who have been married to a U.S. citizen for a period longer than two years. The IR1 visa is very similar to the CR1 visa with the primary difference being that an IR1 visa recipient will be given unconditional permanent resident status and be able to work immediately when they arrive in the U.S.
Requirements of the U.S. Petitioner/Sponsor
In order to apply for a CR1 or IR1 visa, a foreign citizen must be legally married to a U.S. citizen. Unfortunately living together is typically not enough to qualify a foreign spouse for an immigration visa. Common-law marriages are occasionally recognized by the United States Citizenship and Immigration Services (USCIS) but that is dependent on the laws regarding common-law marriages in the country where the marriage took place. Update: With the recent Supreme Court ruling against the Defense of Marriage Act, same-sex marriages are now recognized by the United States for the purposes of immigration.
While there are no age requirements for a U.S. citizen to file the Petition for Alien Relative, there are age requirements for the U.S. citizen to file an Affidavit of Support which may be necessary if the foreign spouse cannot prove that he/she will be able to financially support themselves when they immigrate to the U.S. The U.S. citizen must also maintain primary residence (domicile) in the United States to file Form I-130 and must also live in the United States to file an Affidavit of Support.
The CR1/ IR1 Visa Process
The first step in the CR1/ IR1 marriage visa application process is filing a Petition for Alien Relative better known as Form I-130. Form I-130 is filed with U.S. Citizenship and Immigration Services (USCIS) by the U.S. citizen for his/her spouse to immigrate to the United States. Below are some of the items that may be required by USCIS with form I-130:
Payment of all fees
Petition for Alien Relative
A copy of the U.S. citizen's birth certificate or a copy of all the pages of his/her passport
A copy of the marriage certificate
Documentation that shows any previous marriages have been legally terminated (divorce documents or a previous spouse's death certificate if deceased)
Evidence of a legitimate marriage
When submitting form I-130, you will have to prove that your marriage is legitimate and you will most likely be asked to prove more than a marriage certificate. USCIS is basically looking for proof of an "ongoing" relationship and some of the acceptable methods are joint bank accounts or joint ownership of property. Some other methods of proof that you can provide are phone records illustrating that there is ongoing communication between the two parties, travel documents for when you visited your foreign spouse, receipts for money transfers to your spouse and copies of wedding photos.
After USCIS processes and approves your petition, it will be forwarded to the National Visa Center which is also known as the NVC. The National Visa Center collects forms and fees for U.S. Embassies and Consulates. The NVC will begin processing of the petition once all fees have been paid and will also send out a packet detailing the various forms and documents that will have to be produced. Below is a general idea of some of the documents that may be required:
A valid passport
Affidavit of Support
Application for Immigrant visa and Alien registration
Two 2×2" photographs
Completed medical examination forms
Birth Certificate
Court and prison records
Military records
Police certificates
Once the NVC has determined that all required documents have been submitted they will schedule an interview with the foreign spouse to determine if the visa will be granted. The file containing all of the documents will be forwarded to the U.S. Embassy or Consulate closest to the foreign spouse. Instructions on how to complete the required medical examination will also be sent to the applicant at this time. The medical examination must be performed by an approved doctor and the applicant will be supplied with a list of approved physicians.
Along with a medical examination, the foreign spouse applicant will also be required to meet certain vaccination requirements. Some of the vaccinations that are required are: Hepatitis A, Hepatitis B, Mumps, Measles, Influenza, Pertussis, Meningococcal, Pneumococcal, Rotavirus, Polio, Rubella, Varicella and Tetanus. To expedite the medical examination process, it is recommended that the foreign spouse applicant have the vaccination records ready and available at the time of the medical examination. The visa applicant's regular health care provider should be consulted with and asked for a copy of immunization records.
For the visa interview, the CR1/IR1 visa applicant should bring their valid passport and any other documents or forms that NVC has asked for that have not already been submitted. Digital finger prints will be taken at the time of the visa interview. It is at the visa interview that the CR1 or IR1 visa will be granted or denied. It is important to note that some cases are delayed because the visa applicant does not follow instructions and that some applications will require further administrative processing after the visa interview.
If the visa application is approved, the visa applicant will receive their passport along with an immigrant visa and a sealed package containing the documents that the visa applicant has provided during the process. The visa is typically granted for a period of six months and the visa applicant must travel to the U.S. within that time frame or the process will have to be started all over again. The sealed package is to remain sealed until the visa applicant presents it to a U.S. immigration officer at a U.S. Port of Entry. A visa only allows a foreign citizen to travel to a United States Port of Entry and request permission to enter but ultimately it is up to the Department of Homeland Security to determine whether or not entry to the U.S. will be granted.
How Long Does the CR1/IR1 Visa Process Take?
Typically, the process takes between 8-10 months. However, the amount of time it takes to process an CR1 or IR1 visa can vary from case to case and country to country. One thing is for sure though and that is that any discrepancies in the application process, such as returning incomplete forms, inaccurate information or not submitting all requested documents, can dramatically extend the amount of time it takes to process the marriage visa application. There are specific and meticulous instructions that detail exactly, for example, how Form I-130 will have to be filled out and, unfortunately, even a small mistake can and will get your application rejected or returned.
Can same sex couples apply for a Marriage Visa?
Yes. With the Supreme Court's recent ruling against the Defense of Marriage Act (DOMA), I am of the firm opinion that same sex couples can now apply for a Marriage visa.