Legal Permanent Residency for Students
Foreign students who have fallen in love and wish to get married to a US citizen while in the United States on a J-1 or F-1 Student Visa will need legal help to become a Lawful Permanent Resident. Whether its an I-485 Adjustment of Status or an I-612 Application for Waiver of the Foreign Resident Requirement, our office can identify the proper procedure for your type of Student Visa and file the appropriate legal forms
Whatever course of action that you choose to pursue, you should never overstay your Visa as a student. Although we may be able to help under such circumstances, overstaying your Visa as a student will be problematic.
We invite you to call our office so we can discuss all of your options.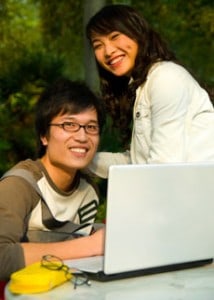 Legal Permanent Residency for Students Married to US Citizens
Most couples meet and fall in love while in school. When one person is a foreign student, and the other a US citizen, the love affair will require some legal work to allow the couple to stay together lawfully. The good news is that a foreign student who is in the United States to study on a Student Visa can marry and immigrate to the United States.
Students typically enter the United States on either a J-1 Exchange Visa or an F-1 Student Visa. Regardless, the Immigration and Nationality Act provides for a change in status with certain requirements and under certain restrictions. There are a few alternative procedures that a student can choose from depending on the type of visa originally granted to the foreign student.
Students with J-1 Visa
J-1 Visas are issued to Exchange Visitors who are participating in an established J Exchange program pre-approved by the State Department (formerly pre-approved by USIA). Exchange Visitors under J-1 Visas include secondary school and college students, business trainees, trainees in flight aviation programs, primary and secondary school teachers, college professors, research scholars, medical residents or interns receiving medical training in the U.S., certain specialists, international visitors, and government visitors.
Certain classes of J-1 Visa holders are subject to a two year residency requirement after the completion of their studies. This means that after the completion of their studies, a J-1 Visa holder must return to his or her home country for at least two years before he or she may obtain an adjustment of status based on Marriage to a US citizen or permanent resident. Under certain circumstances, a J-1 Visa holder may be able to waive the two year residency requirement.
The Department of State provides five statutory bases that a J-1 Visa holder may use to waive the two year foreign residency requirement:
No objection letter
Interested Government Agency Request (IGA)
Threat of persecution
Extreme Hardship
Designated State Health Agency Request (for Physicians only)
Many of our student clients fall in love and get married while in school and then start a family. Where the circumstances of your situation would cause an extreme hardship for the J-1 Visa Holder's spouse or child, the foreign residency requirement may be waived.
Students with F-1 Visa
F-1 Visas are issued to students who wish to enter the United States to study at academic high schools, conservatories, colleges, universities, and institutions with language training programs. Issued by the US Citizenship and Immigration Services (USCIS), F-1 Visas are generally valid for the time period of study, including a brief grace period after the completion of the visa holder's course of study. Unlike holders of a J-1 Visa, F-1 Visa holders are not subject to the two year residency requirement upon completion of their studies. F1 Visa holders can marry while in school and apply for a Change of Status without seeking a waiver. Under such circumstances, the foreign student will most likely be able to remain in the United States.
One option to keep in mind is that the foreign student can always voluntarily return home and then apply for a K1 Fiancée or CR1/IR1 Marriage Visa. In the case of a J-1 Visa holder who does not successfully seek a waiver, the two year residency requirement will still apply.